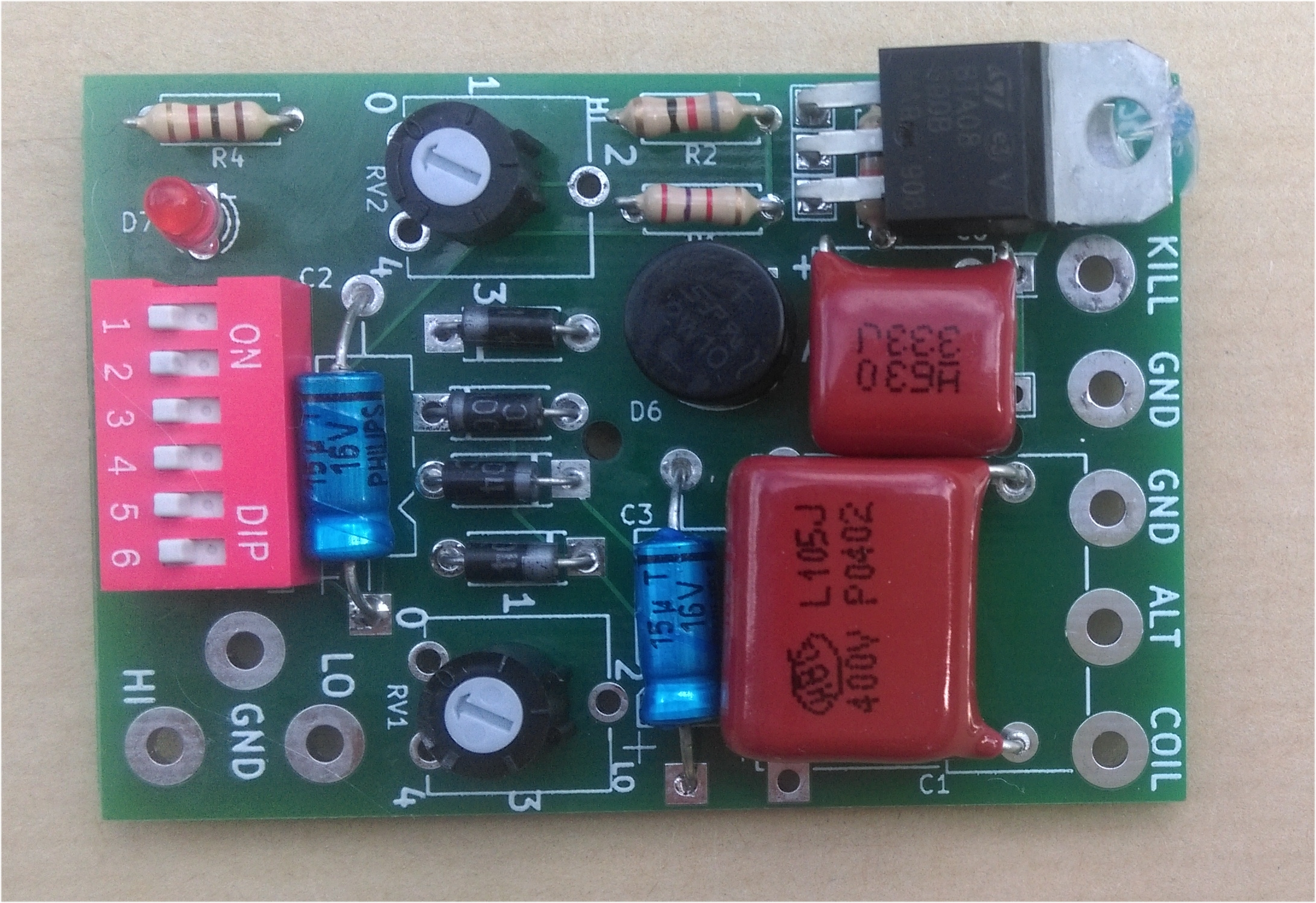 v2.4
Characteristics.
Highly adaptable.
Can handle different pickups coils (Yamaha,Honda,Suzuki,Kawasaki,Zongshen)
Use the second pulse of the pickup for LOW RPM , idle and easy start.
Use the first pulse of the pickup for HIGH RPM, maximum power.
RPM when CDI jump from LOW to HIGH is adjustable.
LED indicator.
Need a working charging coil for the capacitor.
Doesn't need a battery
No rev-limiter
Ready to use unit available in the SHOP.
Printed Circuit Board available in the SHOP.
Limitations.
This CDI only does the ignition task, it doesn't use any safety like neutral and sidestand.
Connect directly Neutral switch wire to Neutral indicator.
If you need "Side-stand security" then connect Sidestand switch to KILL wire of this CDI
---
WHAT DO YOU NEED?
One PCB : Available in the SHOP section.
Electronic components: Parts list
Put the components in place: components.jpg
Wire the CDI: Wiring
How to hock this CDI on a Yamaha XT600
---
How does it works?
This AC-CDI use the 100 to 200 Vac provided by the charging coil to charge a capacitor through a rectifier bridge.
When the spark time comes, the CDI trigger a thyristor that discharge the capacitor inside the primary coil.
This burst of energy into the primary induce a high voltage of few thousand volts into the secondary coil, enough voltage to create a spark at the sparkplug contacts.
here is a interresting description of how a CDI works: https://www.youtube.com/watch?v=0yK3Opq_i0M
The CDI is triggered by the pickup coil. There are different kinds of pickups:
Some bikes have 2 pickups, one for idle/low-rpm setting at 12° Before the TDC and another for high-rpm setting at 36° Before the TDC. ie Yamaha XT550-XT600
– Connect the LOW pickup to "LO" input
– Connect the HIGH pickup to "HI" input
– DIP switch N°4, 5 are set to ON (1 is OFF)


Most bikes have only 1 pickup.
– Connect the pickup to "HI" input
– DIP switch N°1 is set to ON


This pickup puts out a sine signal that could be Positive then Negative (I call it PN) ie Yamaha, Kawasaki
– DIP switches N°3 and 4 are set to ON

or the opposite: Negative then Positive (which I call NP) ie Suzuki, Honda, Zongshen, KTM.
– DIP switches N°2 and 5 are set to ON



Sensitivity

This CDI doesn't have seamless advance, it jump from LOW advance to HIGH advance.
The moment when the CDI jump from Low to Full advance is adjustable by potentiometer RV2 (HI).

Start tuning with RV2 at the maximum value (totally screw) then slowly unscrew it to lower the resistance, therefore the RPM where it switch.

---

TROUBLESHOOTING

Step 1

See: troubleshoot step1
– Don't connect the pickup(s)
– Don't connect the Kill Switch
– Connect the ignition coil
– Remove the sparkplug from the engine and connect it to a GOOD metal frame (ground)
– Connect the charging coil
– Connect a DC voltmeter between Ground and Kill output
– DIP Switches positions don't matter for THIS step.
Then:
– Kick start or electric start a few times to load the capacitor.
The voltmeter should raise up to 100 or 200Vdc.
If not: check grounds, connections, joints, charging coil (stator)

Step 2

See: troubleshoot step2
– DIP Switches positions : 1, 3 and 5 are ON. Other switches are OFF
– Turn RV1 and RV2 to the minimum resistance (position: 0)
– Kick start or electric start a few times to load the capacitor.
– When the main capacitor is charged and the voltmeter shows 100 to 200Vdc, then:
– Connect the +12v plug from a battery to the LO input:
– Led turns on.
– Capacitor discharge into the ignition coil and one spark must fire at the sparkplug.
If not: check grounds, connections, joints, SCR, ignition coil, spark plug cables, spark plug

Redo this Step 2 but this time Connect the +12v plug from a battery to the HI input.

Step 3

See: troubleshoot step3
– DIP Switches positions : 1, 3 and 5 are ON. Other switches are OFF
– Turn RV1 and RV2 to the minimum resistance (position: 0)
– Kick start or electric start a few times to load the capacitor.
– When the main capacitor is charged and the voltmeter shows 100 to 200Vdc, then:
– Connect the pickup coil to the LO input.
– Kick start or electric start once.
When the piston approaches the TDC and pass in front of the pickup, a positive pulse is send by the pickup and trigger the SCR.
LED flash and the capacitor then discharge into the ignition coil and a spark must appear at the sparkplug.
If not: check grounds, connections, joints, pickup coil, RV1 and RV2 are at 0, reverse the 2 wires of the pickup coil.

Redo this Step 3 but this time Connect the +12v plug from a battery to the HI input.

---

IGNITIONS FAMILIES