---
New AC-CDI v10 !
---
Features
Programmable AC-CDI

For [2 strokes engines] and for [4 strokes engines with wasted spark*]
* On 4stk engines with 1 pickup on the crankshaft, one spark occur at compression stroke and one at exhaust stroke. Firing in the exhaust stroke is a wasted spark. Hence the name…
Microprocessor control unit
Easy programming with USB connection and terminal console
Compatible Windows, Linux, Mac
One programmable ignition curve
Rev from 10 to 20,000 RPM
Adjustable timing in 13 steps from 500 to 20,000RPM
Soft rev limiter.
1 input for a inductive pickup (VR)
Automatic detection for pickup polarity
1 output for a capacitive coil type
Non volatile configuration
Power supply voltage DC 8 to 16 volts
Current drain: 100mA
Protected against reverse supply voltage
Plastic box
Wires soldered, no connector provided
Made in France
Will be available in the SHOP section in the coming January 2020
Source and hardware not available
---
Cylinders:
Single-cylinder:
If there is one separate pickup
=> This AC-CDI works.
If there are 2 separate pickups (one for low RPM and one for High RPM)
=> This AC-CDI works.
If there is no separate pickup and the timing is done by using the High Voltage of the stator
=> This AC-CDI will not works
If the engine works with missing teeth
=> This AC-CDI will not works
* Twin-cylinders:
If the engine works with WASTED spark and if there is ONE twin coil.
=> This AC-CDI should works.
If the twin engine doesn't support wasted spark:
=> This AC-CDI will not work
See: CDI compatibility
Remember that ignition coils are different from TCI to CDI system
– CDI coils have low inductance and impedance around 0.5-0.8ohm
– TCI coils have higher inductance and impedance around 1-3ohm
Remember there are AC-CDI and DC-CDI…
---
Pickup:
– 1 input for inductive pickup with 1 signal per crank rev.
or for 1 inductive pickup with separate output for low and high rpm (XT600)
– Pickup must give 2 to 30Vac
– Points, reluctors, Hall sensor, optical sensors can be used as long as they give only 1 pulse per revolution.
– CDI is not compatible with multi-pulses pickup or missing tooth wheel.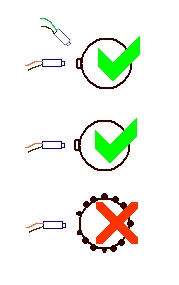 ---
Rev Limiter:
The last RPM value you enter is the "rev limit" that stop all sparks.
---
Ignition timing
– Draw the ignition timing in this XLS sheet.
---
Terminal console
– CoolTerm for Win/Mac/Linux
– Teraterm, Putty, Kitty for Win
– Console commands for Mac:
terminal
ls /dev/*usbserial*
screen /dev/cn.usbserial-xxxxxxxx 115200 -L
screen /dev/tty.usbserial-xxxxxxxx 115200
– Console commands for Linux:
3 ways to find the COM-port:
tail -f /var/log/syslog | grep USB
dmesg | egrep --color 'serial|ttyS'
ls /dev/ttyUSB*
Config port:
sudo su
stty -a </dev/ttyUSB0
stty -F /dev/ttyUSB0 cs8 115200 time 10
Connect:
cat /dev/ttyUSB0 & cat > /dev/ttyUSB0
---
HowTo setup
---
IGNITIONS FAMILIES
VERSIONS