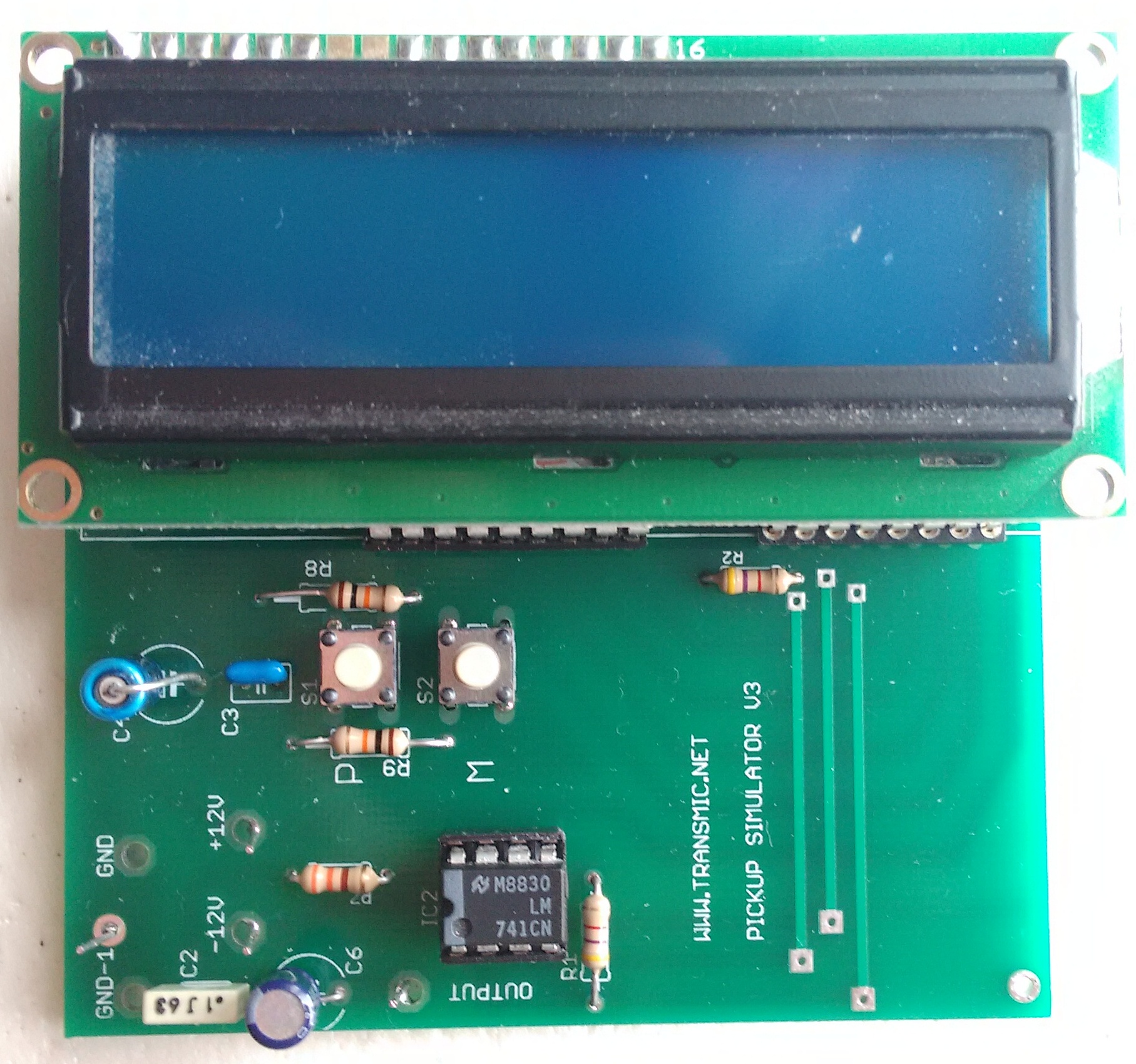 Design to simulate a pickup coil at different RPM to test CDIs, Tachometers, Power valves and ignition coils.
Range: from  300 to 30000 RPM (V2.x)
Range: from 1000 to 30000 RPM (V3.3)
Download.
Version 2.3 is free to use.
Software versions 3.3, 3.4, 3.5 are only available for sale into the SHOP.
Checksum v2.3: 400D
Configuration word:
PICKIT3: 2100h (xx1x xxx1 0001 0000b)
ICPROG : 3F10h (0011 1111 0001 0000b)
How does it work?
Polarity
When LCD is displaying:
Pickup type : ?
-_     or     _-

then select:
Plus button (on the left) = for Positive then Negative like that:
or Press:
Minus button = for Negative then Positive:
18 volts peak to peak:

Frequency
When LCD is displaying:
+   RPM= 1000   -
NEG/POS
then Press:
Plus button = increase RPM
Minus button = decrease RPM
Hold on the button to adjust faster

Perfect accuracy at 30000RPM = 500Hz = 2ms:
Additional features in version 3:
Sweep generator / Manual
When LCD is displaying:
Pickup adjust : ?
SWEEP or MANUAL

then Press:
Plus button (on the left) = AUTO mode
– The simulator will forever sweep the range 1000 to 30000RPM in 30 seconds.
– You can switch from SWEEP to MANUAL mode anytime by pressing a button.
Minus button (on the right) = MANUAL mode
– You can select RPM manually from 1000 to 30000RPM in a linear range 1000 by 1000rpm.
Memory
When both buttons are pressed the same time, the actual RPM is saved in the memory and the simulator will start from this point when restarted.
+   RPM= 6000   -
SAVED
Pictures.
​
A check with a cheap DSO138 oscilloscope that I strongly suggest to buy if you are a bike mechanic.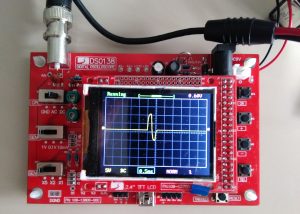 ---
Videos.
Click here for more info
V2.0:
V3.0:

Video of a bench from 1000 to 30000RPM:

V3.2:


---
First use.
Double check your PCB for no shorts or breaks.
REMOVE the LCD display and ALL ICs from the board.
Connect the 3 power wires: Ground | -9 to -15Vdc | +9 to +15Vdc.
The power voltage will determine what maximum output range it gives.
Check out the tension at the power pins of each IC support:
PIC: pins 14,5 DAC: 1,3,13,15 AOP: pins 7,4 and LCD support: pins 1,2,15.
Adjust R5 to get +10Vdc at pin14 of DAC08 which determine output current to have a full scale output.
The DAC can operate from -Vref to +Vref
Power off then ONLY insert PIC16F628.
Connect a voltmeter to pin13 of the PIC. (or a 330ohm resistor + led)
Power on the simulator.
RB7 (pin13) goes high (+5v) for 1sec 2 times, then finally remain low meaning the programming is correct.
Power off and insert the DAC0800, the AOP and the LCD display.
If you don't have a oscilloscope, you can connect a LED between the output and the ground.
Power On. This Led will be off until you have selected the polarity (+/- or -/+) afterward the led slightly bright.
A multimeter will still show 0 volt DC between output and gnd.
Only a oscilloscope can show you the pulses.
Enjoy!
---
Versionning.
Click here for more info
Version 1.0:

Initial release. (235 to 4285rpm)

with 16F628A Program memory:3.5Kb, RAM: 224b, EEPROM: 128b,
Ext clock: 20MHz, Internal clock:4MHz, 18pins

Version 2.0:

[soft] 235 to 30 000RPM in a logarithm rise. (one step = 1millisecond)
[hard] C5 moved on PCB

Version 2.2:

[soft] Use pin13 as a programming checkup.

Version 2.3:

[soft] 300 to 30 000RPM in a logarithm scale.
[soft] Bug corrected.
Free software

Version 3.0:

[soft] 1000 to 30 000RPM in 1000rpm steps.
[soft] Starting RPM can be store in memory
PIC to buy.

Version 3.1:

[soft] Loop range (one step from 30.000 to 1000RPM and vice-versa)

Version 3.2:

[soft] Sweep function to automaticaly browse the RPM range. (1000 by 1000)

Version 3.3:

[soft] 1000 to 30.000RPM in 1000rpm steps.
[soft] A push on any button stop the sweep mode.

Version 3.4:

[soft] Range: 1000 to 20.000RPM in 500rpm steps.

Version 3.5:

[soft] Range: 1000 to 12.500RPM in 250rpm steps.
[hard] with 16F1847 Program memory:14Kb, RAM: 1024b, EEPROM: 256b,
Ext clock: 32MHz, Internal clock:32MHz, 18pins
PIC to buy.

Version 3.5c2:

[hard] Add R3 to avoid DAC08 overheating